Profile
Brian Dunlop is a Chartered Civil Engineer with 16 years engineering and environmental design experience. He has led multi-disciplinary teams of engineers, landscape architects and environmental scientists in the development of sustainable environmental design strategies for residential neighbourhoods, educational and research facilities and large scale urban regeneration projects.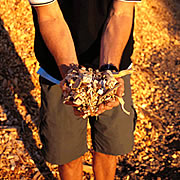 Brian founded his own practice in July 2003, focusing on the analysis, planning, design and commercial delivery of innovative low carbon energy, water management and data services technologies and infrastructure.
Track Record
Brian Dunlop Associates have an expanding portfolio of projects including:
The creation of a Multi-Utility Services Company (MUSCo) to provide bundled energy, data and water services to the £1.5 billion redevelopment of the Elephant & Castle in the London Borough of Southwark. The MUSCo will design, build, finance and operate two new energy centres, community heating, chilled water and private wire power networks, a supply of untreated groundwater for non-potable use and a 'fibre to the unit' data services network.
Environmental masterplanning proposals for the redevelopment of canal-side land at Warwick Bar in central Birmingham covering microclimate, carbon emissions, water management, biodiversity, access and movement, public realm and land use.
A residential development within the Marais floodplain north of St Peter Port on the island of Guernsey, where the site context and the planning brief required a holistic approach to urban design incorporating elements of landscape, ecology and sustainable flood management.
The techno-economic assessment of site-wide renewable energy resources at Elephant and Castle, and locally derived sources of renewable fuel within Southwark.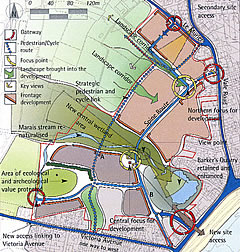 An urban wind resource trial using commercially available horizontal axis and vertical axis turbines mounted on a 13 storey building in central London.
A detailed technical review of the energy and microclimate sections of the planning application for a 69 storey mixed use tower in south London specifically: legislative and planning policy context; aspirations/targets; approach and methodology; scheme development; environmental impact assessment; impacts and mitigation.